Summer is almost upon us, which means it's time to reopen your cottage and get ready for the season ahead. But before you can start barbecuing and lounging on the dock, you likely have some repairs to take care of as a result of leaving your cottage empty over the winter.
Before you place your order for traditional building materials like drywall and pressure-treated wood to take care of those repairs, consider this: it may be time to renovate and revitalize your space with products that are designed to handle the unique challenges of cottage living.
With PVC-based products like Trusscore Wall&CeilingBoard, Trusscore SlatWall, and DockDeck by Trusscore, you'll avoid all the headaches that other cottage owners face, and you'll have a bright and beautiful space to show for it. Here are five reasons why you should incorporate PVC building materials in your cottage, in your boathouse, and on your dock.
1) It's built to last
Many cottage owners know through experience that after a long winter, it's highly likely that the drywall in your cottage has cracked because the rooms have been left unheated for too long. It's a frustrating problem, but it can be avoided. Unlike drywall, Trusscore wall and ceiling panels will expand and contract as temperatures change, which means they won't crack.
The panels can also handle more than just fluctuating temperatures — by combining PVC with the internal truss design, Trusscore has created wall and ceiling panels that are durable, impact-resistant, and stand up to contact without showing dents, cracks, or damage.
Outside, DockDeck boasts the same level of durability. While wooden decking can splinter or rot and composite decking can decay from mold and mildew growth, DockDeck won't rot, rust, or fade in the sun. Instead, it will look and perform like new, season after season.
2) It's moisture and water resistant
Water is a big part of life at the cottage, and existing building materials are porous, which means they'll absorb water and give space for mold to grow. Unlike drywall or wood, Trusscore products are 100% water resistant. With its non-porous design, Trusscore products will shed water and won't absorb airborne moisture, which means they won't degrade or deteriorate in moist, humid, or wet environments.
Trusscore wall and ceiling panels also install in a way that creates a water-resistant barrier, which means there's no chance for swelling, cracking, or rotting, even with repeated soaking.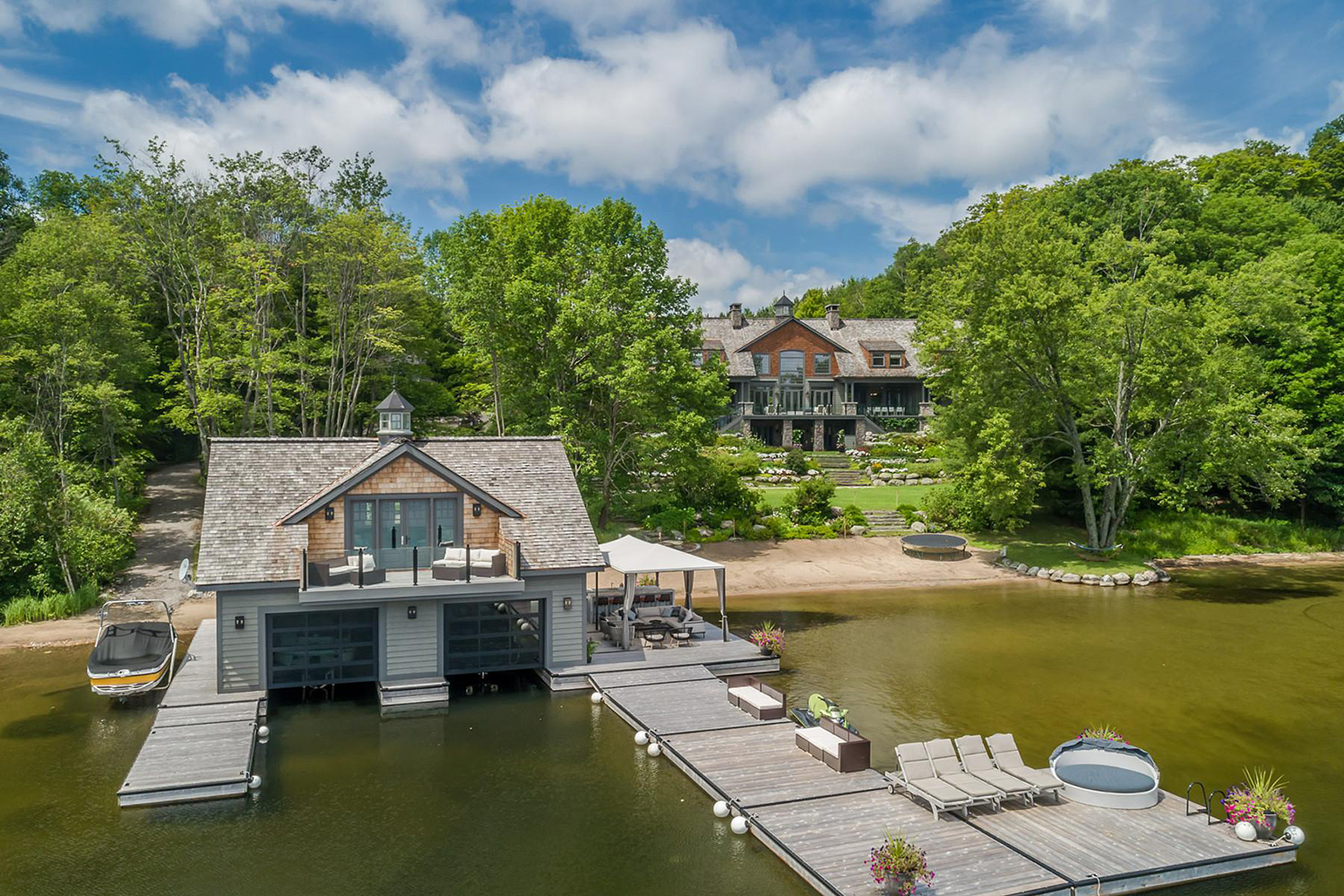 3) It's easy to clean
Your time at the cottage should be spent relaxing, not cleaning. With Trusscore, you can spend more time doing just that. The smooth, non-porous surface of Trusscore Wall&CeilingBoard and Trusscore SlatWall means they can be easily wiped down with soap and water, making them quick and easy to clean.
If you need to pressure wash your dock, you can do it without worry — Trusscore products, including DockDeck, are built to withstand repeated pressure washing and it won't be harmed by whichever liquid detergent you choose to clean with.
4) It's lightweight and easy to install
If you're worried that installing Trusscore at your cottage means you'll have to bring in costly out-of-town contractors to get the job done, don't fret.
With tongue and groove interlocking panels and pre-punched screw flange, Trusscore panels are more do-it-yourself friendly than drywall. In fact, Trusscore installs four times faster than drywall and weighs 40% less, which means it can easily be handled by one person — even on difficult ceiling installations.
DockDeck installation is also a breeze. With a unique Clip Strip fastening system, DockDeck keeps screws hidden and ensures that planks are spaced uniformly – while managing and controlling the natural expansion and contraction that occurs under temperature changes. The Clip Strip system also means you can replace a single board without having to remove any of the surrounding boards.
5) It gives your space a bright and clean look
In addition to being functional, Trusscore also acts as the perfect backdrop that can bring any room to life. The clean, white panels accentuate materials like metal, wood, and bold, colorful furniture, while its high light-reflective properties will help smaller, darker spaces appear larger.
If white panels aren't your preference, you can also buy Trusscore Wall&CeilingBoard and SlatWall in gray, which means you can incorporate shapes, colors, and patterns for more interesting design concepts.
Adding storage is simple, as Trusscore SlatWall blends seamlessly with Trusscore Wall&CeilingBoard to meet all your needs and maximize your space with beautiful and functional wall storage. SlatWall can support up to 75 pounds per square foot, which means it can handle paddles, boathooks, water skis, and more.
For your dock, you have even more design options: DockDeck planks are available in crosshatch and woodgrain texture patterns, as well as a variety of distinct color options.
Your cottage should be a place where you can relax, not where you work away year after year on avoidable and expensive repairs. With Trusscore, you can enjoy your downtime without worry — we've got you covered.