---
Thursday, March 30, 2023
Compare insulated metal wall panels vs. pvc wall panels for interior walls and ceilings in this guide. Learn about the benefits of pvc and the drawbacks of insulated metal panels.
Read More
---
Thursday, March 23, 2023
Discover the best RV interior wall material options for your next RV renovation project which are durable and water resistant.
---
Tuesday, March 14, 2023
Elevate the look of your basement walls with wainscoting. Discover wainscoting ideas for your basement and installation tips that'll enhance your basement.
---
Thursday, March 09, 2023
In Part IV of our series on how tech has transformed the construction industry, we look at the way building supply operations have morphed into online retailers.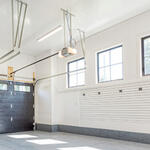 Tuesday, March 07, 2023
Drywall has many downsides as a building material. We explore the best drywall alternatives for ceilings to achieve a strong and durable ceiling.
Read More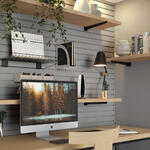 Tuesday, February 28, 2023
Improve your workday with these 10 home office organization ideas and storage tips. Say goodbye to chaos and hello to efficiency with these simple solutions.
Read More