Common Uses for FRP, Done Better by PVC Panels
---
Tuesday, November 23, 2021
Today, a new generation of building materials – PVC-based products like Trusscore Wall&CeilingBoard – is outclassing FRP, delivering more upside and better value. We explore five use cases that would benefit from deploying PVC panels instead of FRP.
SlatWallTips & TricksWall&CeilingBoard
Read More
Superior Drywall Alternatives for Your Garage Walls
---
Tuesday, November 16, 2021
Drywall serves as the most common garage wall finish, although not always the best solution. Improve your garage walls with these drywall alternatives.
Top 5 Reasons to Use PVC Paneling Instead of FRP in a Commercial Kitchen
---
Tuesday, November 09, 2021
Tired of moisture issues from FRP panels in your commercial kitchen or restaurant? Learn about the top 5 reasons to use PVC paneling instead of FRP in a commercial kitchen.
Versatile Design for High-Traffic Spaces
---
Thursday, November 04, 2021
When designing for high traffic areas things like durability and cleanability should be considered. Learn how wall coverings can improve design in high traffic areas.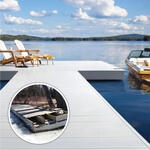 Boat Dock Repair: Should You Repair or Replace Your Dock Decking?
Tuesday, November 02, 2021
Keeping boat dock decking in good repair is key to maintaining a dock's utility. But should you replace a few broken boards or go with an entire new deck? We lay out the pros and cons of each option as boating season comes to a close.
Read More
Top Five Winter Garage Cleanup Tips
Tuesday, October 26, 2021
With these 5 tips, you can clean out your garage fast and keep it organized. Follow these winter cleaning tips to organize your garage from your bikes to your tools.
SlatWallTips & TricksWall&CeilingBoard
Read More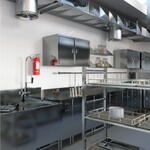 When food grade FRP just isn't good enough
Tuesday, October 19, 2021
Considering FRP for a food processing facility? Learn why PVC wall and ceiling panels is an improved food grade FRP for commercial food processing applications.
Read More