In sheltered outdoor environments, you need a ceiling solution that is water-resistant and easy to clean. One that installs easily with no risk of a back ache. One that looks bright, clean, and inviting and is built to last. One that lets you add valuable square footage to your livable outdoor space.
You need Trusscore Wall&CeilingBoard.
How many times have you wished away a rainy day simply because you couldn't use your outdoor space? What about that space under your elevated deck that would be perfect as a sheltered oasis?
Whether it's a walk-out basement with a deck overhead, a local restaurant thinking about a covered patio ceiling, or an uninspired gazebo or veranda in need of a finished ceiling surface, these covered exterior spaces are missing a key ingredient — Trusscore Wall&CeilingBoard.
As high-strength as it is lightweight, Trusscore Wall&CeilingBoard is a perfect fit for sheltered exterior spaces including under-decking, provided a proper drainage system is installed first. With Trusscore water-resistant PVC ceiling panels, you can upgrade your outdoor space with a bright, high-end ceiling finish while enjoying the low-maintenance ease that comes with installing Wall&CeilingBoard on your outdoor ceiling.
Moisture & Water Resistant

Trusscore Wall&CeilingBoard repels water and moisture, meaning rain, moisture in the air, or regular cleaning with a pressure washer won't cause mold growth or deterioration of the product. Panels simply will not absorb airborne moisture, unlike other ceiling alternatives like organic panelling or plywood, ensuring stability in their strength and size and providing you with peace of mind.

Plus, when silicone sealant is applied to the tongue and groove seam of each panel during installation, you can ensure a water-resistant surface across all panels regardless of which direction water or moisture is coming from.

Cleanability

How important is cleanability in an outdoor setting? Very important.

Fortunately, Trusscore Wall&CeilingBoard is designed to minimize gaps and crevices where dirt and grime can settle, maximizing your ability to clean the product quickly and easily.

With the smooth, non-porous surface of Wall&CeilingBoard a quick wipe down will typically suffice. But for stubborn dirt, go ahead — grab your pressure washer and, with a quick spray, watch your ceiling panels shine like the day they were installed.

Lightweight & Easy to Install Overhead

Trusscore Wall&CeilingBoard panels are so lightweight, it takes just one person to install them overhead, making a sore neck and back a thing of the past. Plus, there are no specialized skills or tools needed for installation, saving time and money for contractors and Do-It-Yourselfers.

So, what will you do with all your extra free time?
The Solution for Under-Deck Ceilings
Right now, somewhere in North America, a second story elevated deck is leaving an underwhelming semi-covered patio space underfoot, while a decking surface permeable to rain and sun looms overhead. In fact, it's a more common sight than you might think. What is the answer to this space that seems like it could have so much potential? The answer is a no-brainer — Trusscore Wall&CeilingBoard paired with an under-deck drainage system.
As a premium exterior sheltered ceiling finish, the easy-to-install Wall&CeilingBoard panels are light in weight, but heavy on performance. Panels are water-resistant to keep mold and mildew at bay and clean up in a snap, while the bright white finish is sure to turn heads.
Ceiling Panels for Covered Outdoor Patios
There are many names devoted to covered outdoor spaces: pergola, veranda, patio cover, gazebo, pavilion, carport, lean-to, awning...you get the point. Whatever you call them, these spaces all have the potential for Trusscore Wall&CeilingBoard — the ideal sheltered exterior ceiling material — to give the space a serious upgrade.
Give your covered outdoor space an indoor feel with the bright, smart look and reliable longevity of Trusscore Wall&CeilingBoard. Its tongue and groove interlocking panel system hides all fasteners from view and installs tightly together so seams are barely detectable. It's a perfect finish to compliment outdoor ceiling lighting, and you'll never have to worry about damage from moisture exposure since the panels are made from PVC and water resistant.
Trusscore Exterior Ceiling Products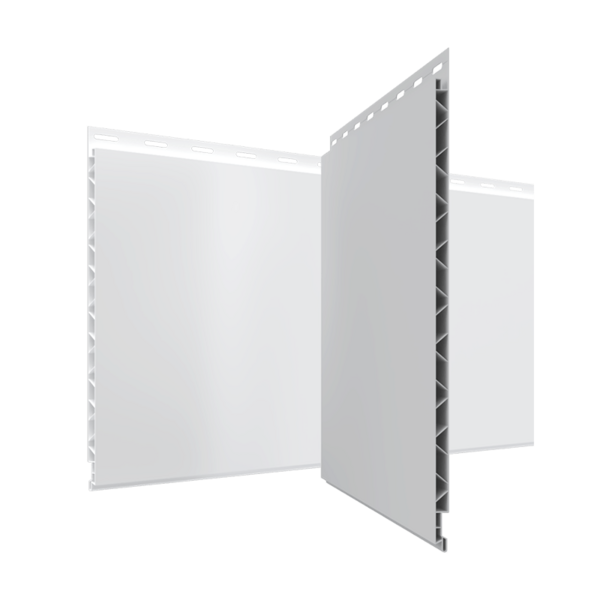 Wall&CeilingBoard
---
Trusscore Wall&CeilingBoard is an ideal drywall replacement that's durable, easy to install, and easy to clean. The wall and ceiling panels are perfect for many different residential, commercial, and agriculture applications.
Learn More
Order Trusscore Samples
If you haven't used Trusscore before, samples of Trusscore Wall&CeilingBoard, Trusscore SlatWall, and Trusscore trim rings can help show you what you've been missing out on.
Find a Residential Retailer
Trusscore works with thousands of retailers across North America to bring you the best service and access to our products.