High in strength, light in weight, waterproof and easy to clean, Trusscore Wall&CeilingBoard is the ideal material for gymnasium walls, changeroom walls and showers, too.
The right solutions for your Recreational Facilities project:
Trusscore Wall&CeilingBoard is tough and impact-resistant, making it an ideal solution in recreational facilities
Wall&CeilingBoard is a better product to use than FRP (fiberglass reinforced plastic panels) or drywall in areas like changerooms or showers
Recreational Facilities Inspiration
Durable & Waterproof Gymnasium Wall and Ceiling Panels
A gymnasium and its affiliated changerooms are unique spaces with unique design and construction needs.
Gymnasium walls need to withstand high traffic and be impact resistant. Changerooms and showers, meanwhile, are high-moisture environments that need to be able to handle constant soakings and at the same time be easy to clean.
Trusscore Wall&CeilingBoard is the ideal material for both gyms and changerooms. Wall&CeilingBoard is tough, it's easy to clean and impervious to moisture.
Made from smooth, non-porous PVC, Trusscore Wall&CeilingBoard is created with an internal "truss" design that gives it unparalleled strength in a lightweight, easy-to-install package. It comes in a clean, bright white or grey finish that enhances natural light, reducing energy needs while providing a welcoming environment for players and teams alike. It's long-lasting and handles bumps and impact with ease, making it a go-to material for durable gym walls.
Unlike drywall or FRP, Trusscore Wall&CeilingBoard won't degrade when it gets wet, which means it can also be used to line changeroom walls and showers. And whether used in a gym, a change room, or as waterproof shower panels, it won't support mildew or mold growth and cleans with soap or cleanser and a simple wipe.
When it's time to get your gymnasium in shape, outfit it with Trusscore Wall&CeilingBoard.
Have a question about Trusscore?
A Trusscore Product Specialist is on hand with answers — ask us about product availability, installation help, estimation tips, and more.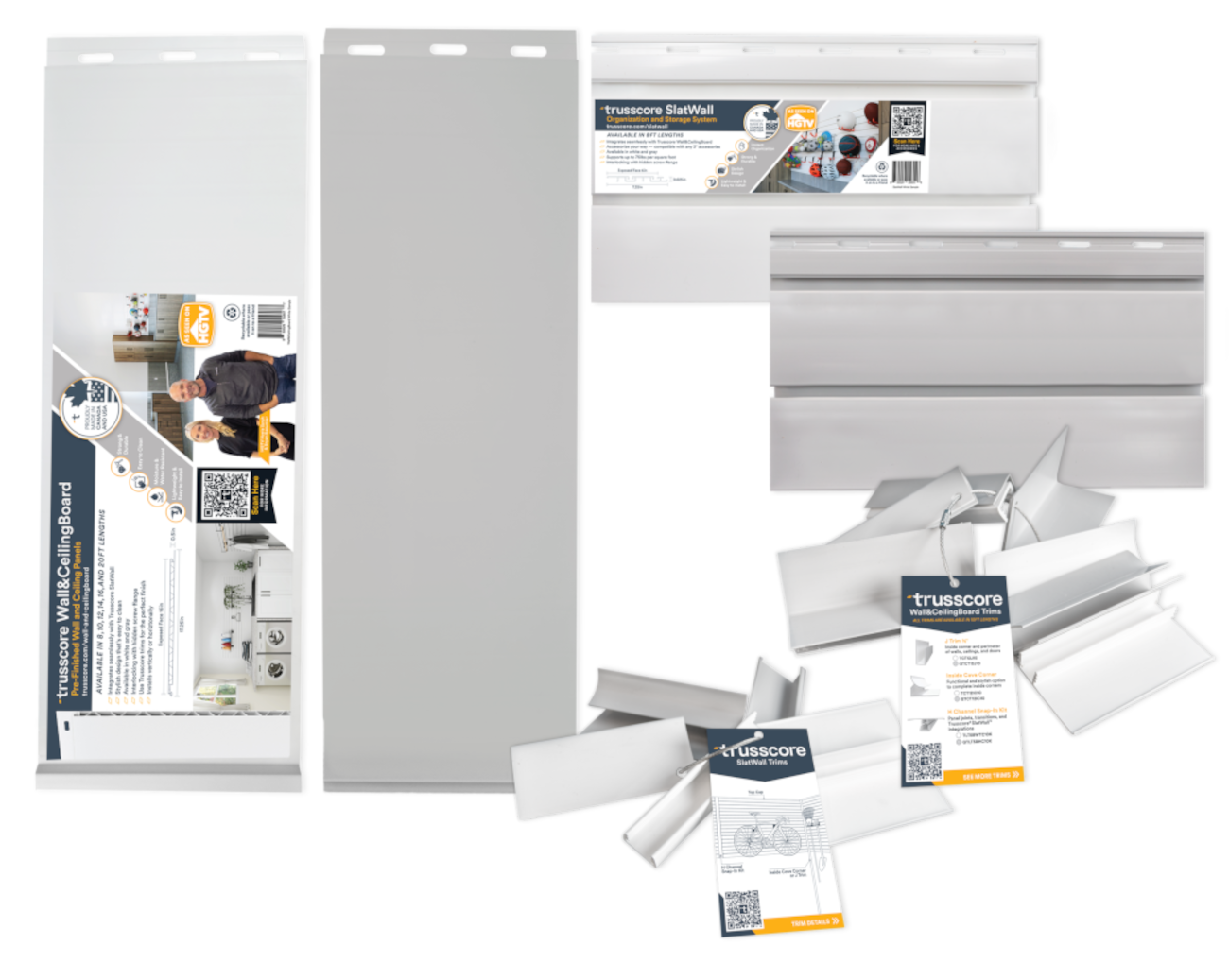 See for Yourself
The best way to see and feel the quality of our materials is in person. Compare Trusscore samples to get a better sense of the color and style suited for your next project.
Products for Recreational Spaces