At Bruce Power, corporate philanthropy during the pandemic has included purchasing and donating nearly 1,000 temporary wall dividers known as TempWall by Trusscore for use inside mass vaccination centers being set up across southern Ontario – including one that opened recently in Brampton.
In summary:
Bruce Power has purchased and donated hundreds of TempWall by Trusscore panels for use in mass vaccination centres across southern Ontario
The panels modular wall system – easy to clean, install, and reconfigure – have played an important role in the fast distribution of COVID-19 vaccine
TempWall has also been used by Bruce Power to create a safe training center for its own employees
It's impossible to overstate the commitment Bruce Power has made to helping Ontario communities during the COVID-19 pandemic.
Since the COVID-19 health emergency began more than a year ago, Bruce Power, the company that runs the Bruce Nuclear Generating Station on the eastern shore of Lake Huron, near Kincardine, Ontario, has stepped up with contributions of money, materials, and people, establishing temporary hospitals and COVID-19 testing and vaccination centers across the province.
Why?
"We want to do our part," explains Rick McMurray, section manager of projects and facility property management at Bruce Power.
McMurray has been on the front line of those contributions, tasked by his employer back in March 2020, with quarterbacking Bruce Power's response.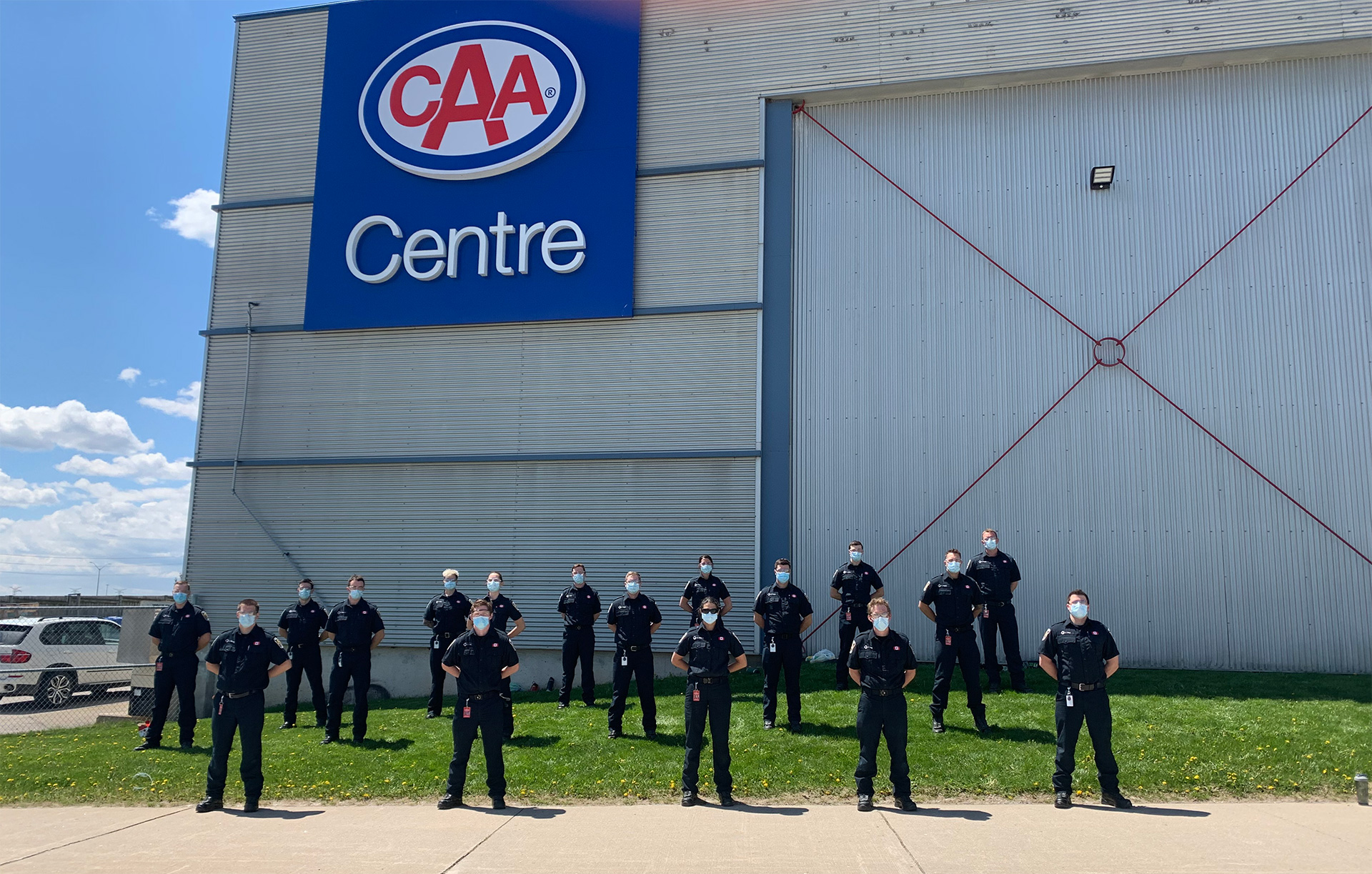 It began with helping to set up temporary hospital facilities in various Grey-Bruce hockey arenas, back when there were fears that the province's hospital system would become overwhelmed, and that conventional hospital resources would be squeezed by COVID-19 patients.
Bruce Power's answer was to purchase dozens of temporary wall panels from Trusscore, panels which were set up to create walled-off spaces in hockey arenas for medical treatment of patients.
"They were exactly what we needed," says McMurray.
The temporary panels, known as TempWall by Trusscore, create a hospital-grade, temporary modular wall system that is quick and easy to install, re-configure, and remove. The panels are easy to clean, and the Trusscore Research and Development team has discovered a way to affix an anti-microbial coating to the wall panels' surface, making them particularly apt in a potentially infectious setting.
As the pandemic evolved, so too did Bruce Power's use of the TempWall product. Once vaccination products were approved and doses of the vaccine began to arrive in Ontario in large numbers, a need emerged for large-scale vaccination centers. McMurray and his team began to leverage the flexible nature of the TempWall panels, reconfiguring them to create just that – spaces where large numbers of people could quickly and safely receive vaccines. In some cases, the same panels that were once used as a temporary hospital space are now serving as temporary partition walls in vaccination centers.
"This is a model that can be used throughout Ontario," says James Scongack, Bruce Power's Executive Vice-President of Corporate Affairs and Operational Services.
The latest iteration of the vaccination center concept has been created in Peel Region, at the CAA Centre in Brampton, a 5,000-seat hockey arena.
The Brampton facility follows the same model used by Bruce Power at sites in Sarnia, Kincardine, Hanover, and Owen Sound: Rather than have people line up to receive their dose of vaccine, TempWall panels are configured in a way that creates rows of three-walled stations where people sit and wait for health-care workers to bring the vaccine dose to them. The spaces allow for as many as 4,000 people to be vaccinated per day.
"The stations allow for a reduction in the number of surfaces the patient is interacting with and cleaning is much easier," says Dr. Ian Arra, Medical Officer of Health for the Grey-Bruce Health Unit.
As of late May, Bruce has purchased nearly 1,000 TempWall by Trusscore panels and then helped distribute and install them.
The company has additionally used the panels inside a Bruce Power training facility located in a former factory space in Chesley, Ontario. Specialized training stations and connecting hallways are created using lengths of TempWall product, which serve to keep groups of people physically distanced from other training sections.
"The Trusscore product has proven to be very flexible for us," says McMurray. "As our requirements change, we simply change up the panels."
Image Gallery
Products for Healthcare Applications
TempWall
---
TempWall by Trusscore is a hospital-grade, temporary modular wall system that is quick and easy to install, re-configure, and remove. It's a fast and flexible instant wall solution to create temporary spaces.
Learn more