---
Tuesday, September 20, 2022
Some homeowners install protective bumpers over their garage drywall and others use brushed-on coating to help protect. There is a better solution available.
Read More
---
Tuesday, September 13, 2022
Oriented Strand Board (or OSB), and PVC panels are two popular options available for garage interior walls and ceilings. But which is the smart choice?
---
Thursday, September 08, 2022
Trusscore asked a Trusted Installer to describe how he would approach a typical install. These are his top Trusscore Wall&CeilingBoard installation tips.
---
Tuesday, August 30, 2022
The pandemic-driven exodus from offices has left many buildings empty – and ripe for conversion to needed residential housing that's both affordable and carbon-friendly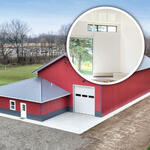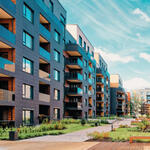 Friday, August 05, 2022
The era of the single-family North-American home may be coming to an end: sky-high prices and a drive to reduce carbon emissions are spurring a move to urban density and multi-residential construction. . Long live denser living.
Industry FeatureSlatWallWall&CeilingBoard
Read More