Common Uses for FRP, Done Better by PVC Panels
---
Tuesday, November 23, 2021
Today, a new generation of building materials – PVC-based products like Trusscore Wall&CeilingBoard – is outclassing FRP, delivering more upside and better value. We explore five use cases that would benefit from deploying PVC panels instead of FRP.
SlatWallTips & TricksWall&CeilingBoard
Read More
Superior Drywall Alternatives for Your Garage Walls
---
Tuesday, November 16, 2021
Drywall serves as the most common garage wall finish, although not always the best solution. Improve your garage walls with these drywall alternatives.
Top 5 Reasons to Use PVC Paneling Instead of FRP in a Commercial Kitchen
---
Tuesday, November 09, 2021
Tired of moisture issues from FRP panels in your commercial kitchen or restaurant? Learn about the top 5 reasons to use PVC paneling instead of FRP in a commercial kitchen.
Versatile Design for High-Traffic Spaces
---
Thursday, November 04, 2021
When designing for high traffic areas things like durability and cleanability should be considered. Learn how wall coverings can improve design in high traffic areas.
Top Five Winter Garage Cleanup Tips
Tuesday, October 26, 2021
With these 5 tips, you can clean out your garage fast and keep it organized. Follow these winter cleaning tips to organize your garage from your bikes to your tools.
SlatWallTips & TricksWall&CeilingBoard
Read More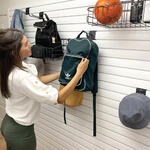 4 Back to School Organization Tips for Your Home
Tuesday, August 31, 2021
Here are our five four back to school organization tips for your home to declutter your space and de-stress. Read about our back-to-school organization tips.
Read More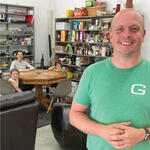 Home sweet home. In a Trusscore-equipped garage
Tuesday, August 17, 2021
When a home renovation loomed, Matt Stevens temporarily moved his family into a makeshift lifeboat – their Trusscore-equipped garage. Garage living has never been better.
Customer StorySlatWallTips & TricksWall&CeilingBoard
Read More