The Fisher Poultry Farm is in business for the long haul. When it needed a product that would stand the test of time – and the test of hygiene – in its enormous commercial poultry barns, it went with Trusscore Wall&CeilingBoard
In summary:
The Fisher Poultry Farm in Ayton, Ontario has constructed 10 barns since 2014, all of them outfitted with Trusscore Wall&CeilingBoard
Durability and longevity were prime considerations when the company embarked on the new construction – which is why it chose Wall&CeilingBoard for the barns' walls and ceilings
Not only is Wall&CeilingBoard durable, its smooth, bright, non-porous finish helps the Fisher operation achieve and maintain biosecurity within its work spaces
Airflow, lighting and mold and mildew control are all enhanced due to the unique properties of Trusscore Wall&CeilingBoard
When Kevin Weber was tasked with overseeing the construction of the first in a series of new barns for Fisher Poultry Farm Inc., in Ayton, Ontario, one of the company's fundamental requirements was that the barns be durable and long-lasting. The builder, Domm Construction, also out of Ayton, listened to the farm's requirements, sized up the use-case, and promptly suggested Trusscore Wall&CeilingBoard for the barns' interior walls and ceilings. Weber hasn't looked back.
"Trusscore has handled everything we've thrown at it," says Weber, manager of the Fisher facility, an egg production operation that typically houses as many as 500,000 birds at any one time.
Each of the 10 barns on the Fisher property is massive – nearly 30,000 square feet each, with high, 12-foot ceilings to allow for good airflow. Trusscore product is installed in every one.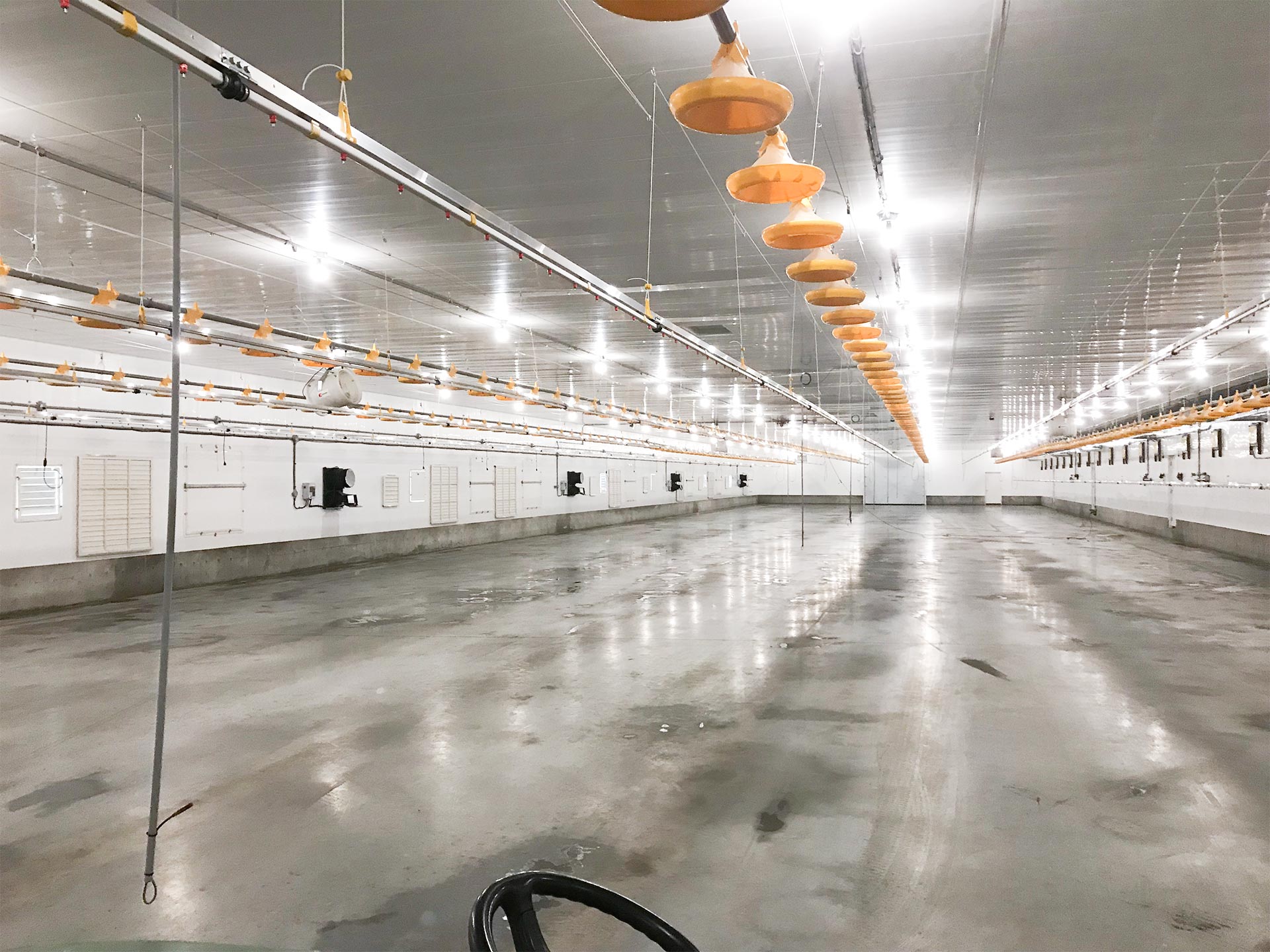 The Fisher operation embarked on barn upgrades in 2014 and the final one was completed a few weeks ago. Part of the rationale behind the work was to comply with new animal welfare codes. Use of Trusscore Wall&CeilingBoard was fundamental to meeting those goals.
"Good airflow and dust control are crucial to maintaining animal health and product quality," explains Weber. By lining the walls and ceiling of their barns with Trusscore Wall&CeilingBoard, Weber and his staff are better able to keep on top of barn hygiene.
"[Wall&CeilingBoard] is easy to clean," says Weber. "The dust comes off it nicely.
"And after we're finished cleaning the barns, the Trusscore product looks like the day it went on. How can you beat that?"
The Fisher Poultry Farm, with roots going back to 1903, is a division of P&H, or Parrish & Heimbecker, the giant diversified agribusiness headquartered in Winnipeg.
Weber, who has been on the job at Fisher Poultry Farm for 42 years, says that in the past poultry barn plans would typically call for the walls to be lined with ribbed metal sheeting or plywood. Some operators would install fiberglass reinforced panels (FRP). Each of those products, however, comes with drawbacks.
The ribs used to strengthen the metal, Weber says, impedes the airflow within a barn. Trusscore Wall&CeilingBoard, on the other hand, "is nice and smooth, so for our ventilation, it gives us a clean airflow rate across the ceiling, which is huge for us."
As for plywood, it's difficult to clean and neither plywood nor FRP has the proven longevity of Trusscore Wall&CeilingBoard – and longevity was something Weber says his employer stressed was a prime requirement when it came time to embark on new barn construction and meet the company's poultry barn design goals
"I look after the operations here," explains Weber. "And the good people that look after the money said to me, 'Kev, make sure you build something that's going to last.'
"They were looking for 20, 25 years of longevity. Well, we're going to get way, way longer than that from I see. These barns are going to last."
This means the company's bottom line comes up looking more attractive.
The Trusscore product, with a bright, white finish, provides the Fisher operation with another key benefit – Wall&CeilingBoard reflects natural light, reducing energy use and costs and ensuring the barns are properly lit. A well-lit facility ensures production stays on track.
But that's not all. Because Wall&CeilingBoard is made from PVC rather than an organic like wood, it doesn't support mold and mildew growth,
which aids Weber in Fisher's quest to keep their facilities hygienic and disease-free.
"I can't say it enough how easy it is to keep things in good shape," says Weber. "By using Trusscore, we don't have any worries."
Learn more by visiting the Trusscore Poulty application page.
Let us know if you are building or updating your poultry barn with Trusscore - mention us on social media @Trusscore and share your experience with us, or contact us directly by clicking the button below: