---
Tuesday, December 06, 2022
Trusscore Wall&CeilingBoard panels are intended to be installed in an environment where the panels have been acclimatized to a temperature between 10° and 20°C (50° and 68°F).
Tips & TricksWall&CeilingBoard
Read More
---
Tuesday, November 29, 2022
The construction industry has been among the last to transform digitally. A technological transformation of the industry is currently happening.
---
Tuesday, November 22, 2022
Slatwall systems are a great way to maximize the storage space in your garage. There are some things you should consider before buying and installing one.
---
Wednesday, November 16, 2022
Consider this list of creative storage ideas for small spaces to ensure everything has its place when you live in a small space.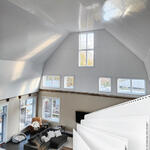 Wednesday, October 19, 2022
Barndominimums or "barndos" are increasing in popularity as the red-hot real estate market. We cover the pros, cons and costs of building or buying a barndo.
Read More
Wednesday, October 12, 2022
Dreaming of the day your garage stops being an area of your home where storage bins and décor collect dust? Using these seven garage organization ideas, you can turn your dream into reality.
SlatWallTips & TricksWall&CeilingBoard
Read More